Turn cultural heritage into property
---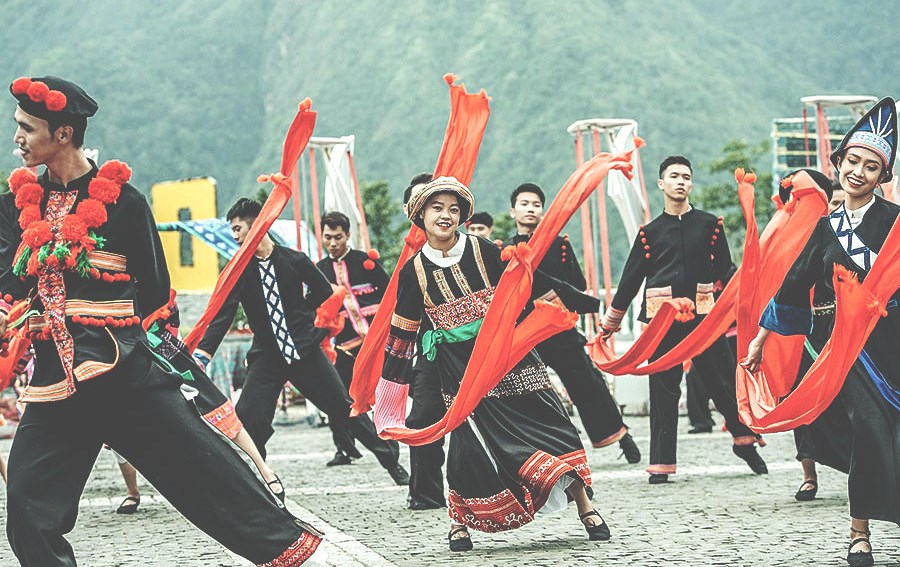 Festival of traditional Sapa dance festival
Abundant resources for tourism development
Located along Highway 6, in the direction of Hanoi to Son La, about 15km from Moc Chau Plateau, Hua Tat village of the Mong people is beautiful and peaceful in the midst of Van Ho (Son La). Hua Tat village is known to tourists as an attractive community tourism destination (DLCĐ) with a poetic natural landscape, the Homestay has a modern and unique style, but still bold the unique culture of the people. Mong ethnic group in the Northwest highlands.
Ms. Hang Thi Sua, a Mong ethnic woman in Hua Tat village, has been working as a Task Force for seven years. She said: In August 2015, her family's Homestay was officially put into operation. Up to now, the average Homestay reaches 300 guests / month, with a revenue of 450,000 VND / person, revenue from tourism activities of her family is about 120 million VND / month. Most visitors come here to relax, experience culture, visit villages ...
We own a large ethnic minority community, with 53 ethnic groups. Each ethnic minority in its land has its own unique cultural identities, a valuable and abundant resource for tourism development.
In the past, ethnic minorities weaved cloth, made crafts, increased production to serve family needs, now, based on the refinement of traditional cultural heritages, there are many professions. is invested to become an attractive tourism product. These can include the traditional handicrafts in Lao Cai, Yen Bai restored; tobacco bath service of the Dao; exploiting houses to become community houses in Ha Giang; to combine the performing arts into tourism products in Mai Chau, Sa Pa (khene dance of the Mong ethnic group, bell dance of the Dao ethnic group, the drainage of the Thai people ...).
According to the Travel Department (General Department of Tourism), by 2020, there will be about 300 villages, hamlets, villages, hamlets and hamlets engaged in community tourism activities nationwide. According to incomplete statistics, by the end of 2019, the whole country has more than 5,000 active homestays, with a capacity of nearly 100,000 guests, of which more than 2,000 establishments have been recognized as qualified. Typically in Ha Giang, there are more than 30 models of specialized quality, each model has 10 criteria and the locality is building one more standard of international standards. Some households in Ha Giang have been recognized as meeting ASEAN standards.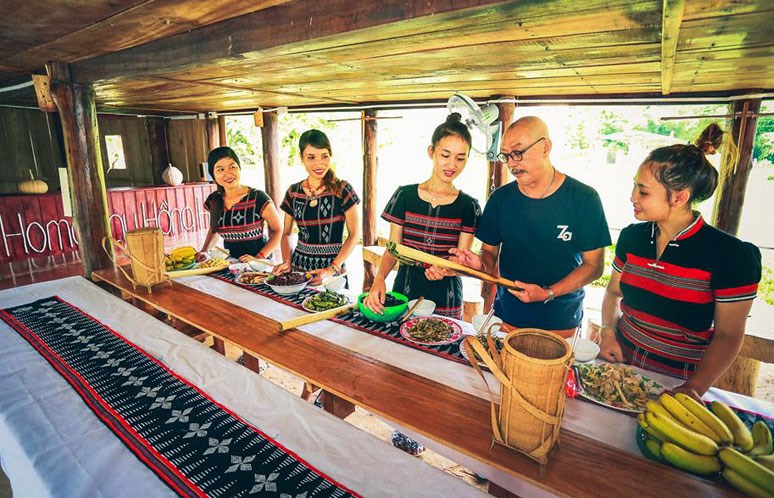 Community tourism site Hong Ha Homestay (Thua Thien-Hue) attracts tourists by a culture rich in national identity
Need to be more cautious and responsible in exploitation
TS. Tran Huu Son, Vice Chairman of the Vietnam Association of Folklore, said that cultural heritages have become a resource for tourism development. In particular, the program on turning heritages into cultural assets, conducted by the local tourism industry in recent years, has achieved a lot of success. But using ethnic minority culture in tourism business needs a careful and responsible ...
It must be seen frankly that, cultural exploitation in mass tourism has had a negative impact on cultural heritage, when the tourism situation is overly commercialized, and cultural value is boring; risk of fading identity, breaking local traditions and lifestyles ...
For example, the traditional costumes of many ethnic minorities, which are handcrafted with meticulously hand-woven fabrics, have now been replaced by imported fabrics or ready-made garments; Many souvenir products called regional and regional characteristics were imported from elsewhere…; making many cultural beauties no longer preserved. The trend of commercialization in ethnic minority tourism is a valid concern.
Although culture is a potential gold mine, the exploitation efficiency in tourism is not high. On the other hand, because there is no clear and specific development strategy, the exploitation and management of culture in tourism still faces many difficulties.
Natural resources can then be exhausted, but tourism resources (crystallized products of culture), when enriched and proliferating, become an invaluable asset. If tourism is only for profit, the "defects" will not be avoided. The core of the problem is still awareness and interests of the community about the value of the cultural heritage that they own. From there, convey to visitors these values ​​with love, respect and faith.
Only when people really benefit from the local tourism development will culture develop sustainably, positively contributing to poverty reduction.