Unique straws are made from agricultural products
---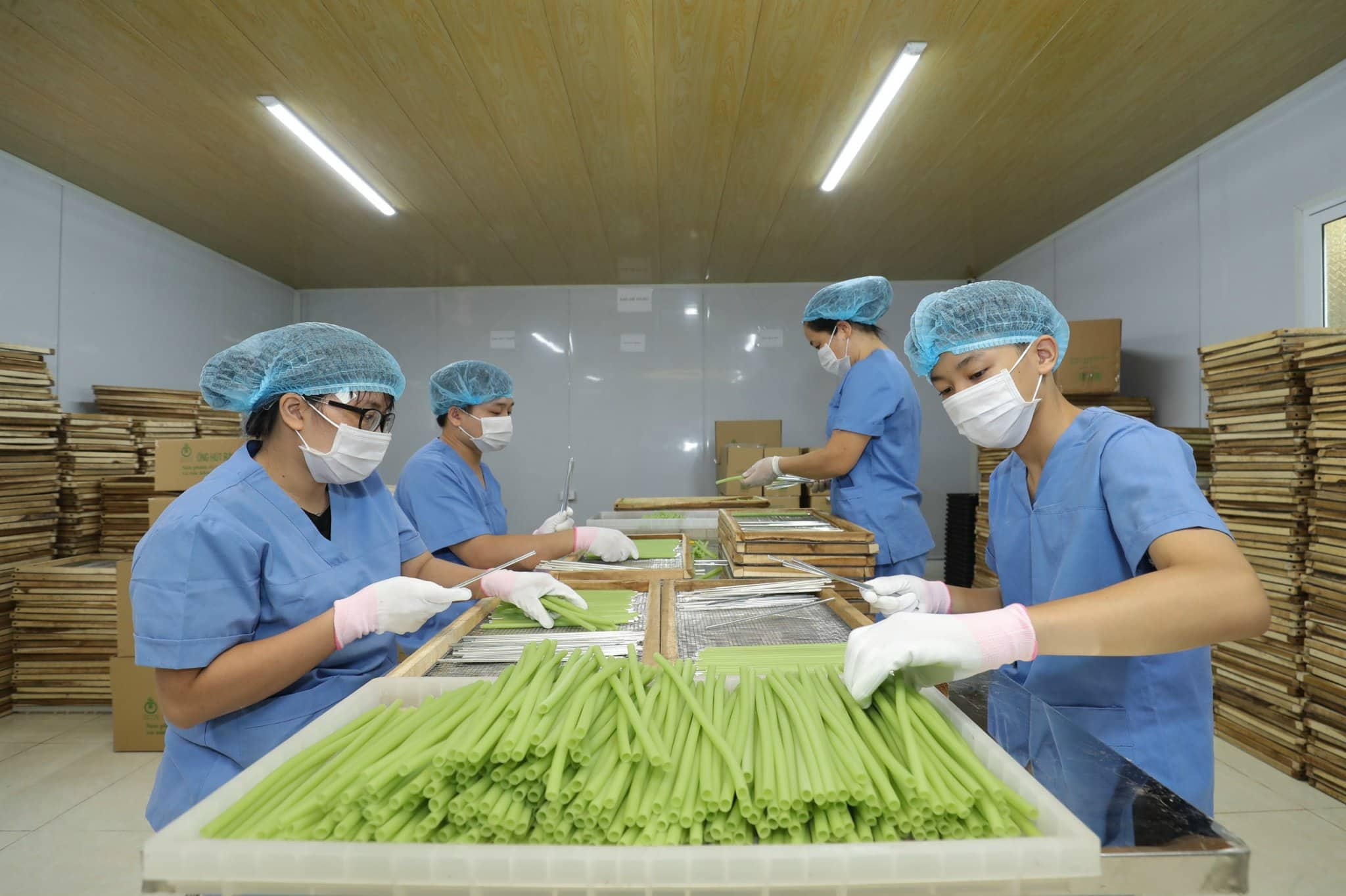 Producing straws by agricultural products at Red River Agricultural Service Cooperative
During one time attending OCOP Fair in Hanoi, we had the opportunity to meet Mr. Le Van Tam, owner of straws made from vegetables and fruits. Through the story, we better understand the meaning and the spread of this product to consumers and society.
According to Mr. Tam, he is very interested in environmental pollution, regularly participates in programs and campaigns against plastic waste. Working in the organic vegetable and fruit industry, Mr. Tam thinks about implementing a product made from agricultural products to replace plastic straws, protecting the environment and ensuring safety. for user.
"During a trip with my family, I saw a lot of plastic waste on the beach, polluting the environment. It was from that time, when I returned, I determined to implement my idea of ​​turning vegetables, fruits into a kind of straw "Mr. Tam shared.
It is known that, to make the straw, Mr. Tam has researched to use tubers such as tapioca, potatoes ..., using the natural color of these bulbs or using colors from Gac fruit, flower pea ... For the first time, the test straw had a very thick shell, not evenly rounded or the body was curved, difficult to adjust, Mr. Tam persistently reduced and combined the right ingredients to form a colorful vegetable straw. natural but very eye-catching.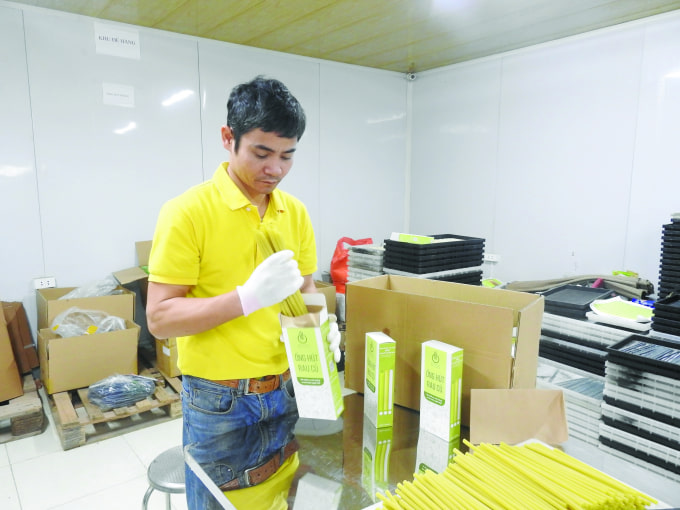 Mr. Le Van Tam inspects the packaging of straws
Other with straws plastic straws vegetable, fruit becomes slightly soft after about 30 minutes in warm water plug while maintaining the structure, as well as sufficient rigidity for use in the next 10 hours. The product only melts when it is continuously soaked in water after more than 1 day. Each straw is used once, has a shelf life of up to 18 months from the date of manufacture, easily decomposes so it does not harm the environment. A special feature of this product is that in addition to its main use for drinking water, this straw can also be stir-fried, boiled, dipped hot pot, or even fried into snacks to create nutritious dishes. and weird.
Mr. Tam excitedly said: "Currently, the Red River cooperative produces about 50,000 straws every day. Straws made from vegetables and fruits were put into use by a number of units such as the Government Office, and beverage cafes in Hanoi. Especially, vegetable straws have been on the shelves of some supermarkets in Korea and Germany ".
Recently, in December 2020, the straws made from vegetables and fruits of the Red River Agricultural Service Cooperative was scored 5 stars by the OCOP Grading Council of Hanoi City.
---
Straws made from vegetables, fruits and vegetables
With the desire to change people's habits of using plastic products, contribute to environmental protection from specific actions, Mr. Truong The Tien (born in 1987), from Thanh Hoa, currently lives and works in the city. . Ho Chi Minh City has an initiative to produce "instant straws" made from rice starch, potato, cassava, banana…. His "instant straws" brand Vistraws has just launched and has been well received by the market.
In particular, the straw can turn into many dishes such as: frying oil into a snack; baked in the microwave will become puffed shrimp tree version; bake straws and then grind it with a smoothie machine, add water to nutritious vegetable porridge, soak in water to make pasta used in stir-fries, hot-pot, boiled, ...
According to Mr. Truong The Tien, the input materials of "instant straws" are made from controlled agricultural products, ensuring no residues of heavy metals, pesticides, growth stimulants ... the user's health.
Sharing the idea of ​​producing this kind of instant straw, Mr. Tien said that once he saw an image of a straw plugged through a turtle's nostril, he had an idea why he could not produce a tube. Environmentally friendly and nutritious from vegetables. With the advantage of having a lot of experience in production, food processing and agricultural products, Mr. Tien embarked on research and trial and had to undergo hundreds of failed trials.
"The most difficult thing to make a straw is to keep its hardness, it is very fragile when used in a variety of beverage environments from hot, cold, soft drinks to carbonated water ... a lot of research takes time to come up with the recipe. Our production machines are also completely self-made ", Mr. Tien shared.
Although not as hard as a plastic straw, the vegetable straw still meets the needs of drinking very well. It will soften after about 30 minutes of being plugged into the water but still retain the structure to use and will only melt if soaked in water for 6-7 hours. The product is biodegradable in just a month, much more environmentally friendly than plastic and nylon. Each straw is used once, expiry date 9-12 months from date of manufacture.
The instant straw product was shared by Mr. Tien on social networks and received a positive reception from many partners and customers. Currently, a month, his workshop is producing 15-20 million straws, providing many resorts, hotels as well as cafes across the country.
The edible straw is not a new product coming to the market. In fact, straws from paper, grass, bamboo ... have also been used by users to replace plastic straws. But they still have many disadvantages while using them such as: difficulty in uniformity in size, easily soluble in water, not high hygiene ...
With Vistraw straws, all sizes are manufactured to meet the needs of coffee, smoothies, milk tea ... They have rich colors and are also made from agricultural products such as: pea, beetroot. , coffee, ..., this type of straw ensures absolute safety for users as well as does not affect the taste of drinks.
"I make this kind of straw, in addition to the desire to change the habits of using plastic products of many people, protect the environment, and also contribute to helping farmers solve the output problem and improve the value of Vietnamese agricultural products. ", Mr. Tien confided:
Mr. Tien also said that his straws are also loved by customers in fastidious foreign markets such as Germany, Italya, America ... when trying. The owner of the brand of instant straws is also building a plan to expand the market and bring their products to export.